I was never a big Instant Pot fan, but I have fallen in love with my Air Fryer. You can make so many things like Made from Scratch Air Fryer Hash Browns!
Have you ever tried to make hash browns in a skillet? I can never get that beautiful crispy brownness. But, with an air fryer you can easily do this and it's easy!
What do you need to make made from scratch air fryer hash browns?
This recipe is so simple! You just need potatoes. I prefer russet, but you can use any white potatoes. You'll also need oil, and I prefer Canola or Vegetable oil for hash browns as opposed to olive oil. And, you'll also need salt and pepper.
How do you make hash browns?
You are basically grating potatoes to turn it into hash browns. I recommend peeling the potatoes before grating.
Then, you'll place the grated potatoes in a few paper towels or a dish towel and squeeze to get as much water out as you can. This will help make the hash browns more crispy and less soggy when cooking in the air fryer.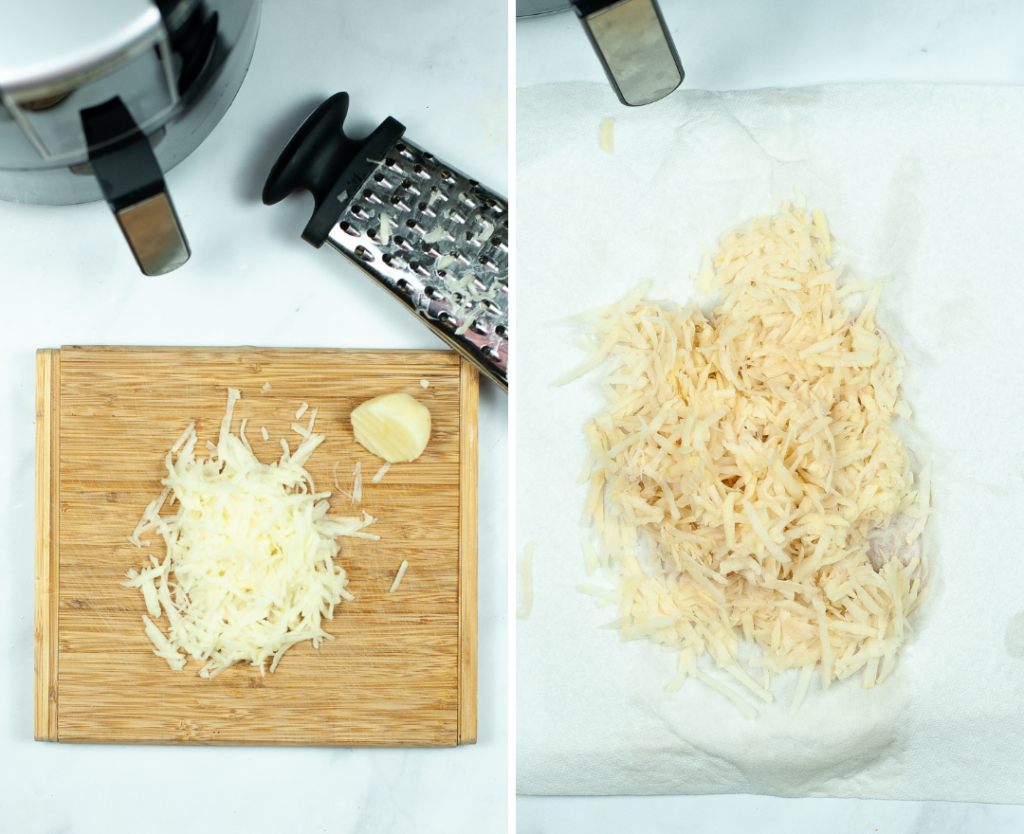 Next, it's time to toss them in some oil and salt and pepper. I prefer Canola oil myself, but vegetable oil is fine. I don't recommend olive oil as it can add a flavor to the hash browns.
Now if you want to get fancy you can add a pinch of garlic powder or onion powder for some added flavoring, too.
What do you use to grate potatoes for hash browns?
I like to use a regular ol' cheese grater that you can really hold onto to do this because it's the easiest to clean. But…you can totally screw up your fingernails or your fingers. I have probably grated myself a few times doing this.
There's a few other options for grating potatoes quickly.
I have used a food processor many times with a shredding disc. It's super fast to get it done. But, there are a couple of things to consider.
unless your potatoes are very small, you'll probably have to cut them into chunks to get them to fit into the chute to go down
it can be a pain to clean a food processor and all it's parts
There's also this type of shredder or this type of chopper/shredder, which I have used both in the past and do love each of them. But again, they have small parts that can be a pain to clean.
How do you cook hash browns in an air fryer?
Before cooking, preheat your air fryer. Even if your air fryer doesn't have a "preheat," you can still do this.
Mine does not have a preheat, so I just hit the temperature I need and add 3 minutes and let it preheat. Then, I hit cancel, and input the correct time and keep the same temperature.
Don't forget to shake the hashbrowns at the halfway mark.
Can you cook frozen hash browns in the air fryer?
Yes! You'll need to add extra time and higher temperature. I find that half a bag of hash browns cooks for about
Can you cook store bought hash browns in the air fryer?
Yes! You can often find refrigerated hash browns near the eggs or dairy section of the store. I usually cook those for the same amount of time as freshly grated hash browns as they are not frozen.
As for the Hungry Jack Hash Browns in a box, I recommend cooking them similar to fresh hash browns.
Can you cook frozen hash brown patties in the air fryer?
Yes! My husband and my kids love make 1 or 2 in the air fryer for breakfast.
I just spray some oil on the bottom of the air fryer rack. Then, I spray oil spray on top of the hash brown patties and cook them for 12 minutes, flipping over at the halfway mark.
I have an 8 quart air fryer, for our big family, and I can cook up to 6 hash brown patties at once in a flat row.
However many you cook at a time, just make sure they can be in a flat single layer without crowding.
Did you know?
Your air fryer can do more than just hash brown with fresh potatoes. I've made homemade curly fries and regular fries from fresh potatoes and they come out just as good as if I fried them up in a pot of oil.
Recipes coming soon for these!
Your air fryer cook time might need to be longer than mine. I have a larger 8 quart air fryer, so it tends to cook things quicker than smaller ones.
Breakfast Ideas to go with Air Fryer Hash Browns
Yield:

2-3 servings
Made from Scratch Air Fryer Hash Browns
Ingredients
2 russet potatoes
1 tablespoon vegetable (or olive) oil
Salt and pepper to taste
Instructions
Peel your potatoes.
Use a cheese grater to grate your potatoes.
Place the grated potato in the middle of about 4 layers of paper towels or a clean dish cloth. Fold it over the potatoes and twist until moisture from the potato release. Continue to twist out moisture until no more moisture releases.
Add your grated potato to a bowl, and gently stir in the oil and salt, and pepper.
Add your grated potato to your air fryer.
Cook your hash browns at 370 degrees for 7 minutes (shake at the halfway mark).
Remove and enjoy with your favorite breakfast.
Nutrition Information:
Yield:
3
Serving Size:
1
Amount Per Serving:
Calories:

112
Total Fat:

0g
Saturated Fat:

0g
Trans Fat:

0g
Unsaturated Fat:

0g
Cholesterol:

0mg
Sodium:

115mg
Carbohydrates:

25g
Fiber:

3g
Sugar:

1g
Protein:

3g
Any nutritional information on thetiptoefairy.com should only be used as a general guideline. This information is provided as a courtesy and there is no guarantee that the information will be completely accurate.
Follow Us!
Enjoyed this post? Come follow along on Facebook, Twitter, Pinterest, and Instagram!
Check out our other blogs!